Anahera
オーストラリアNo.1 DJの称号を持つMaRLoが2年ぶりにageHaに帰ってくる!!
06.01 (Sat) 23:00 to 06:00
TRANCE / EDM / ALL MIX

MaRLo

Ruben de Ronde

Mark Landragin

Nhato

Norio SP

VJ REi TOMiNAGA

SoU

東京夜蝶倶楽部 -AGEHA PERFORMANCE CREW-

YOSHIMASA

TAKAHASHI YU

AKI-HIRO

G-NAILS

TAKANORI

DJ ITZ

O-FUNE

DJ KATO

OVERHEAD CHAMPION

芦澤教授

Kenchara5

DJ NYAN-CHU

KICK OFF

DJ TOMMY

DJ TAKASHI MIZUKAMI

BULL
ageHa place
JAPAN / KANTO
東京都江東区新木場2-2-10
03-5534-2525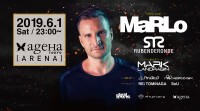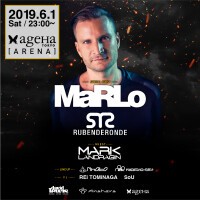 オーストラリアNo.1 DJの称号を持ち、Anaheraへの出演で初来日を果たしたMaRLoが、2年ぶりのageHaに帰ってくる!!さらに、A State Of Trance radio showでもお馴染みArmada musicのA&Rを務めるRuben de RondeがageHa初出演!!彼らの迫力サウンドをageHaで体感せよ!

ISLANDエリアでは、UEFAチャンピオンズリーグFINALを記念としたウイニングイレブントーナメント大会2019の開催も決定!!
パブリックビューイング用の大型スクリーンで実施するageHa流のeSports!!
(参加者は入場無料)

賞金は3万円。他にも3位の方まで賞品をご用意!!
応募方法は、応募フォームに必要事項を記入するだけ。誰でも参加可能!

抽選で16名の選手を選抜致します。ドシドシご応募ください!!

[応募フォーム]
http://bit.ly/2WuBid7

ageHaにしかできないスポーツと音楽のエンターテイメントが繰り広げられる!!

※※※ WELCOME!! INTERNATIONAL GUESTS ※※※

We offer a special discount service to the guest from overseas who are having a hard time to purchase our advance tickets. In order to receive this discount.

※Passport / Driver's license / Resident Card except for Japanese
※Copies/Smart Phone Photos are not acceptable.
※You must be 20 years or older to enter and a valid photo ID containing your birthdate is required at the door.